UK Government's OHID Open consultation: Vitamin D Call for Evidence - Submission from Robin Whittle and Patrick Chambers MD

This page contains a submission to the Office for Health Improvement & Disparities call for evidence (2022-04-03):


with some additional sections which ideally would have been in the submission, but which could not be finished by the deadline on 2022-05-15. Further improvements have been made since then. However, by 2022-09-18, enquiries revealed that the OHID did not receive the submission at all, despite it being sent before deadline, and there being no reports of problems from my email server.

Latest update: 3 June 2023 (First established 2022-05-15. See Update Notes at end.)


This submission was written by

Robin Whittle

and co-signed by

Patrick W. Chambers, MD

.

Although the submission directly concerns the failings of current UK government vitamin D guidance, the same or similar criticisms apply to such guidance in most or all other countries.

This submission focuses on:

Vitamin D based intracrine (AKA autocrine) and paracrine signaling inside and between nearby immune cells, respectively.

All medical professionals and immunologists need to understand these, but few do, in part because the vitamin D research literature does not explain them clearly.


The need to attain at least 50 ng/mL 125 nmol/L circulating 25-hydroxyvitamin D, with vitamin D3 supplemental intake quantities as ratios of bodyweight - with higher ratios for those suffering from obesity.


The importance of such good 25-hydroxyvitamin D to treat or prevent numerous acute and chronic diseases, and to facilitate good health starting from early pregnancy and for all of life, including to reduce the incidence of neurodegeneration in old age.





Patrick and I are members of the Nutrition for Immune System Health (NISH) email discussion list: https://nish.groups.io. If you find the articles cited in this submission seriously interesting, you might like to join us and the other researchophiles on the NISH list.

../ To the main page of this site.

Robin Whittle rw@firstpr.com.au Daylesford, Victoria, Australia. I am a UK citizen.
Twitter: https://twitter.com/RobinWhittle3 Substack: https://nutritionmatters.substack.com


A

PDF

copy of this page, with all 9 sections, updated to 2022-07-09 is:


May 2023 Article at Brownstone.org

---
Contents
Contents of additional sections we added after deadline, which were planned to be part of the full submission

#sjw-article

This updated submission is not peer reviewed. Our purpose is encourage people to read the most pertinent research, and to discuss this research, including with more informative versions of the graphs they contain.

Please see this peer reviewed article, in the prestigious journal

Nutrients

:





---

Frontispiece - the graph from Quraishi et al. 2014:

#01-intro
1 Introduction
1.1 Key points

1.2 This website's name
1.3 Author's background
1.4 Most doctors do not understand vitamin D's importance to the immune system
1.5 Action based on evidence, rather than on the mistaken views of many doctors, immunologists, etc.
#02-compounds
2 The three vitamin D compounds, and the history of units for these and for 25-hydroxyvitamin D levels; vitamin D based intracrine and paracrine signaling

2.1 Vitamin D3 cholecalciferol
2.2 25-hydroxyvitamin D calcifediol = 25(OH)D
2.3 1,25-hydroxyvitamin D calcitriol = 1,25(OH)2D
#03-uk-low
3 Terribly low 25-hydroxyvitamin D levels in the UK
3.1 Comparing UK 25(OH)D levels with those of our African ancestors
3.2 The damage begins in-utero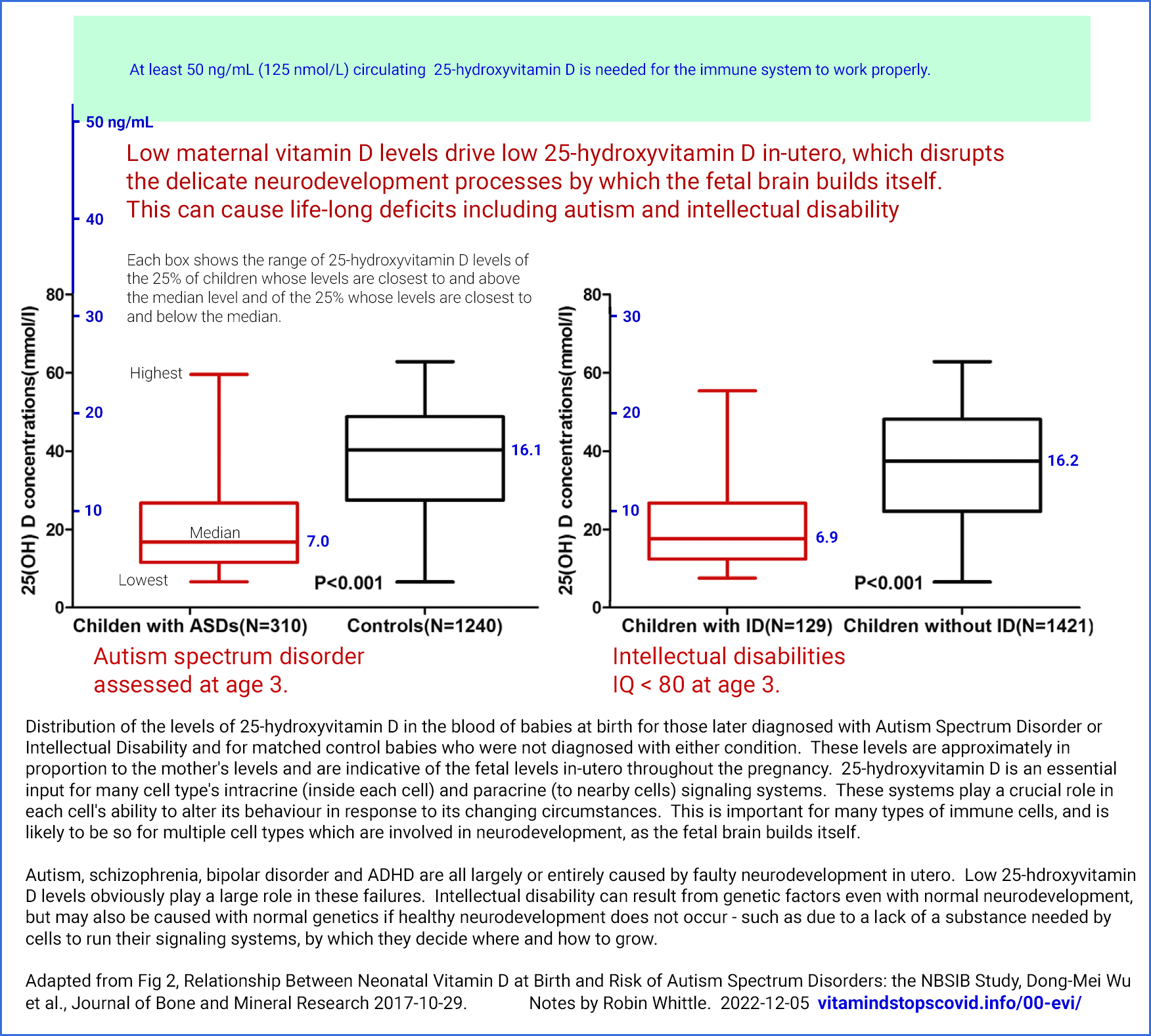 3.3 Parkinson's disease and other forms of neurodegeneration

#04-health
4 The need for 125 nmol/L 50 ng/mL 25-hydroxyvitamin D
4.1 Seasonality and so incidence and severity of influenza
4.2 Seasonality and severity of COVID-19 and influenza

4.3 High levels of infection, harm and death among BAME medical staff in the UK
4.4 Observations of 25-hydroxyvitamin D levels and COVID-19 severity
4.5 Kawasaki disease - and so Multisystem Inflammatory Syndrome AKA PIMS / PIMS-TS

4.6 25-hydroxyvitamin D repletion in acute disease
4.7 Clinical emergencies: Boosting 25-hydroxyvitamin D safely over 50 ng/mL in 4 hours with a single oral dose of calcifediol

4.8 Vitamin D to suppress inflammatory autoimmune diseases
4.9 Type 2 diabetes, hypertension, breast cancer and cardiovascular disease
#05-history
5 The UK government's current vitamin D recommendations are based on the erroneous 2011 US/Canadian Institute of Medicine report
#06-ratios
6 Vitamin D3 supplemental intake quantities as a ratio of body-weight


This is the end of the submission as sent to OHID. Below are some further sections which we ideally would have included.

2022-07-09 updates:
#charts
2022-07-9 update: Charts depicting the three ranges of ratios of body-weight
2022-07-09 update: No evidence for lower ratios for underweight body morphology
#underweight
2022-07-9 update: Current research on the reasons for people suffering from obesity to have lower than expected 25(OH)D levels, for a vitamin D3 intake commensurate with their body weight

#obesity-deficit
#sjw-updated-ratios
2022-09-18 update - Prof. Wimalawansa's updated ratios of bodyweight for daily vitamin D3 supplemental intake quantities
#07-fortif
7 Fortifying food with vitamin D3 can only provide a small fraction of what people need. Government efforts should be directed entirely at facilitating proper supplementation.
#08-misinf
8 The UK government misinforms the public about the adequacy of fixed, excessively small, supplemental intakes of vitamin D3 and about intakes greater than 0.1mg 4000 IU / day being potentially harmful
. . . there is currently not enough evidence to support taking vitamin D solely to prevent or treat COVID-19.
#09-role
9 The best ways governments can support their citizens regarding vitamin D
#10-sjw-bio
10 Sunil J. Wimalawansa's bio and recent article

Update history


© 2022 and 2023 Robin Whittle, Daylesford, Victoria, Australia. Please reproduce sections with full attribution to https://vitamindstopscovid/00-evi/ . Do not copy the entire document to any public website. Please refer to this site, since there will no-doubt be corrections and other improvements.

Sub-sections, such as 2.1, can be linked to with targets, such as https://vitamindstopscovid.info/00-evi/#2.1 . Made with Fabien Cazenave's Kompozer 0.8b3.