Over 200 Scientists, Doctors, & Leading Authorities Call For Increased Vitamin D Use To Combat COVID-19

:

COVID-19

and

influenza

are only serious problems due to many people having

weak and/or dysregulated immune responses

- overly-inflammatory,

cytokine storm

responses which kill healthy cells and damage organs. Sepsis is a condition in which a variety of infections - and sometimes burns - trigger extreme immune system dysregulation which damages organs.

The

biggest single cause

of these weak and dysregulated immune responses is also the one which is most easily corrected:

vitamin D deficiency

.

Inadequate

zinc

also drives COVID-19 severe symptoms. 25mg zinc, as chelate,

every

day is safe and will guard against deficiency in this important mineral, which is part of approximately 2000 enzymes and 750 gene-controlling transcription factors [

Read et al. 2019

] and which which reduces the ability of the SARS-CoV-2 virus to replicate its RNA. [See these

graphs

of zinc and COVID-19 from

Vogel-Gonzalez et al. 2020

.]

Omega 3

fatty acids,

vitamin C

and several of the

vitamin B

family are also important to good immune health, are frequently deficient, and can be easily and safely supplemented.

#d

Vitamin D

refers primarily to three compounds which are essential for human health:

D3 cholecalciferol

, [

WP

] which is produced from 7-dehydrocholesterol when the skin is exposed to short-wavelength 297 nanometre UVB light. This can occur naturally with high elevation sunlight and bare skin - no sunscreen or glass. There is very little D3 in food or multivitamins, so people who do not have substantial all-year-round UVB sun exposure need to take vitamin D3 supplements regularly.

D3 itself helps stabilize endothelial cells, which line our blood vessels. [

Gibson et al. 2015

] COVID-19 and immune system destruction of these cells, particularly in the lungs, restricts the ability to breathe and causes the blood to become hypercoagulative. This hypercoagulative state causes microembolisms and larger blood clots in all organs, damage to the lungs, heart, brain, kidneys and liver and to death due to stroke and heart failure.

25 hydroxyvitaminD3 AKA 25(OH)D,

25OHD

and

calcifediol

[

WP

] is produced in the liver, over several days, by an enzyme which attaches an oxygen-hydrogen hydroxyl group at the 25 position of D3.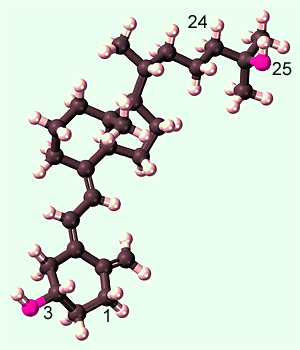 25OHD circulating in the bloodstream has a half-life of a month or two. Higher 25OHD levels have a shorter half-life as a self-limiting degradation process kicks in. Vitamin D blood tests report 25OHD levels as, for instance,
50ng/ml
or
125nmol/L
, which is one part in 20 million. Circulating 25OHD supplies all cells in the body. Many cell types consume 25OHD for their autocrine (internal) and paracrine (nearby cells) signaling systems.
Another enzyme can add a hydroxyl group to the 1 position of 25OHD, which converts it into 1,25dihydroxyvitaminD3, AKA
1,25OHD
and
calcitriol
[
WP
] which has a half-life of a few hours.
A small fraction of the circulating 25OHD is converted by this enzyme in the kidneys to a much lower level - around one part in 30 billion - of 1,25OHD which also circulates in the blood. The exact blood level of 1,25OHD is tightly regulated by parathyroid hormone. This is the only hormonal (long range signaling, via the bloodstream) function of vitamin D: to regulate calcium and bone metabolism.
All other known functions of vitamin D are in the
autocrine and paracrine signaling systems
of a large number of cell types, including especially those of the
immune system
. Each type of cell responds to particular circumstances by converting 25OHD to 1,25OHD which activates vitamin D receptors [
WP
] inside the cell (autocrine) and which may diffuse to other nearby cells (paracrine) to alter their behaviour too. In both cases, the activated receptor migrates to the nucleus and turns up the replication of multiple genes into messenger RNAs [
WP
], with each cell type upregulating different sets of genes. These mRNAs instruct ribosomes [
WP
] to make particular proteins which cause the cell to respond properly to its conditions. [Fuller
explanation
of autocrine and paracrine signaling.]
Researchers recently found that Th1 lymphocytes from the lungs of hospitalised COVID-19 patients failed to respond to their circumstances. They are supposed to turn off their inflammatory cytokine [
WP
] production and instead produce an anti-inflammatory cytokine. The sole reason their autocrine signaling systems were not working was that
they did not have enough 25OHD
. [
McGregor et al. 2020
]
The critical role circulating 25OHD levels play in COVID-19 was further illustrated by the Cordoba trial [
Castillo et al. 2020
], in which just 0.532mg oral 25OHD calcifideol, raised circulating 250HD to over
100ng/ml
(one part in 10 million) within a few hours [
graph
]. These Spanish-made
Hidroferol capsules
cost only one or two Euros each. The supplementation group received another capsule on days 3, 7, 14, 21 etc. Half the 26 patients in the control group needed intensive care and two of them (8%) died. Of the 50 patients in the supplementation group, only one required intensive care and none died.
If all people with serious COVID-19 were treated as soon as possible, Cordoba-style, with 0.5mg calcifideol plus a 7.5mg or so loading dose of D3 (300,000IU), they would get better very much faster than most patients do today with conventional treatment, and probably with less need for corticosteroids.
Vitamin D is not strictly-speaking a vitamin, since we can make it ourselves if short wavelength ultraviolet UVB light strikes our skin. However, this UVB light also damages DNA, and most people do not have access to sufficient UVB light all year round. So for almost all people, vitamin D is an essential nutrient - not a mineral, but a vitamin.
Vitamin D's one hormonal role regulating calcium and bone metabolism is well known and it seems that many doctors still think of vitamin D as a hormone - or at least of 25OHD as the pro-hormone to the 1,25OHD hormone. In recent decades researchers have discovered more about vitamin D's role in autocrine and paracrine signaling of many cell types. Researchers have found that 25OHD levels of
40ng/ml
(
100nmol/L
) or more are required so that these autocrine and paracrine signaling systems function properly. [
Fabbri et al. 2020
].
Traditionally living Maasai pastoralists and Hadzabe hunter gatherers in Africa average
46ng/ml
[
Luxwolda et al. 2012
]. This is the best indication we have of the 25OHD levels of our African ancestors during the time when our present-day immune systems evolved.
Since 2008 [
Call to D*Action
] researchers and MDs have been advocating that everyone supplement sufficient D3 to aim for
40 to 60ng/ml
(
100 to 150nmol/L
) 25OHD. A recent article confirms this:
Immunologic Effects of Vitamin D on Human Health and Disease


Nipith Charoenngam, Michael F. Holick 2020-07-15
Nutrients 2020, 12(7), 2097
https://doi.org/10.3390/nu12072097
You can see in the four wavy lines of the infographic above how the average 25HOD levels of white and Black, Asian and Ethnic Minority people in the UK vary throughout the year. These averages are far lower then the
40 to 60ng/ml
range researchers have known since 2008 is healthy. Up to
100ng/ml
is normal and healthy too. Toxicity may become a concern for some people if their 25OHD levels exceed
150ng/ml
(375ng/ml) - but this can only occur with far greater D3 intakes than is necessary to achieve healthy levels, as you can see from the way the 25OHD levels fail to rise so much for higher D3 intakes:
The above graph is adapted from
Ekwaru et al. 2014
.
This chart from
Weishaar et al. 2013
indicates how low many people's vitamin D levels are today, compared to the healthy
40 to 60ng/ml
range. The right curve represents the distribution of 25OHD levels in the Luxwolda et al. African study.
There are various definitions of vitamin D deficiency, insufficiency etc. A recent analysis of all available research by Karl Pfleger arrived at an estimate of 53% of the world's population having 25OHD levels below
20ng/ml
(50nmol/L) and 83% below
30ng/ml
(75nmol/L). These two thresholds are still widely used to define deficiency, but the research of the last decade or so indicates we should be aiming for higher levels than to ensure the autocrine signaling systems of many cell types work properly. This enables the cells to respond rapidly and fully to their changing conditions.
Another way of viewing the variation in 25OHD levels between individuals is this scatter plot of the levels of individual white women in the USA with no supplementary vitamin D3, and with 0.01mg (400IU), 0.02mg (800IU), 0.04mg (1600) and 0.06mg (2400IU) D3 a day: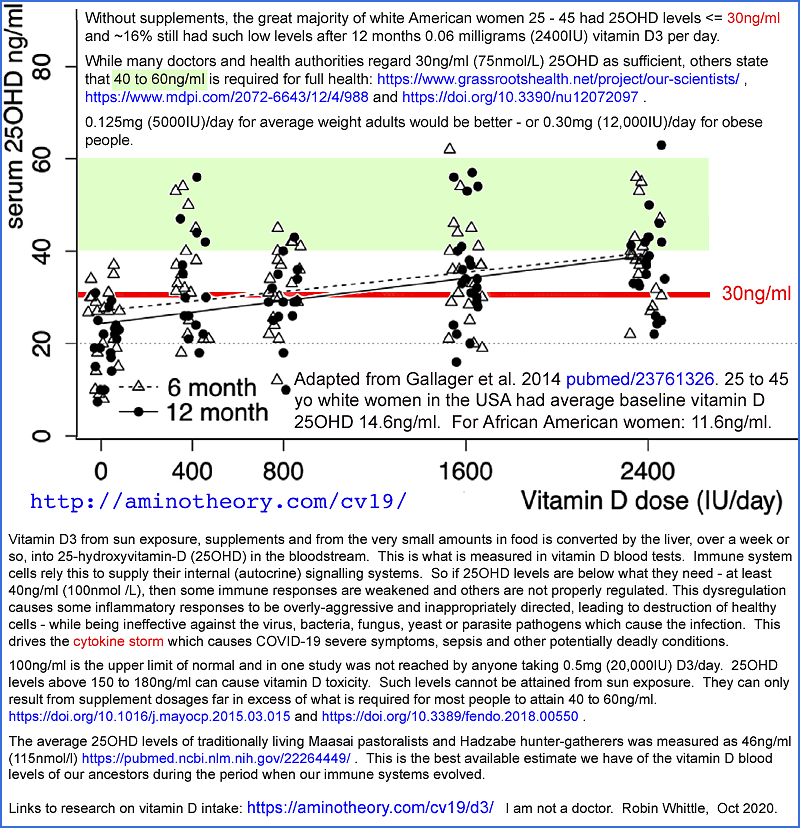 Supplementing
0.125mg (5000IU) D3 a day
will, after several months, raise the 25OHD vitamin D levels of 70kg (154lb) adults to, on average
50ng/ml
(125nmol/L)
. [
Ekwaru et al. 2014
and their graph, above.] It is fine to take D3 in larger amounts, once a week or so.
This is only
45 milligrams of vitamin D3
a year
. To give some idea of this, 0.045 grams is the mass of a piece of office paper 42mm (1.65") square. Pharmaceutical grade D3 costs about USD$2.50 a gram ex-factory, so this is 13 US cents per year. 0.125mg is the mass of a 2.2mm square piece of office paper.
IU
means International Unit, 1/40,000,000th of a gram of D3
. One IU of D3 is sufficient for a 10 gram mouse for a day, and for a 70kg human to maintain about
50ng/ml
25OHD for 17 seconds. IU (International Units) is a silly unit of measurement. The large numbers involved make some people concerned they are taking excessive amounts of D3.
If all, or almost all, people supplement with sufficient D3 to raise the average blood levels to
50ng/ml
, all year round, this will greatly reduce or eliminate the weakened and dysregulated (overly-aggressive, hyper-inflammatory, self-destructive) immune responses which cause severe symptoms and high rates of viral shedding of
influenza
and
COVID-19
. Likewise, the incidence of the gross immune dysregulatory disorder,
sepsis
[
WP
], will be greatly reduced. Numerous other health benefits will result from ending the
Vitamin D Deficiency Pandemic
.
Further explanation, including regarding reduced viral shedding, is on the
01-supp/
page.
Ordinarily electronic technicians wouldn't be meddling with the work of nutritionists and doctors - and these healthcare professionals wouldn't be messing with the work of electronic technicians. Indeed they don't mess with our work, because electronic technicians are generally doing a good job.
Doctors have a huge range of responsibilities and must amass and maintain a vast body of knowledge and skills. Unfortunately, for a number of reasons - including shortage of time and constant schmoozing by drug and vaccine companies - many doctors' understanding of nutrition has not kept pace with the best research. The conventional approach of most members of the medical profession to vitamin D has for some decades been disastrously out of touch with reality.
If nutritionists and doctors had been doing this part of their work well, then the populations of all countries would be supplementing D3 and, on average, have vitamin D levels (as measured by 25 hydroxyvitmainD3 - 25OHD) in the healthy
40 to 60ng/ml
range, and sometimes higher -
all year round
.
I am one of an increasing number of people, including doctors, nurses and a surprising number of physicists, electronic engineers/technicians, computer programmers etc. who have been working assiduously for years, and sometimes decades, researching and raising awareness of nutrition in general and of vitamin D in particular. I figured out the critical role vitamin D deficiency plays in the COVID19 pandemic in late March - just by reading research articles.
People trust their doctors to advise them, and doctors trust panels of experts to advise them - because they generally cannot navigate the vast volumes of research to decide which articles are the most important. Doctors also rely on government guidelines, in part so they can work without unreasonable risk of being sued for malpractice.
Yet many of these official guidelines are based on the work of the US Institute of Medicine, who in 2011 calculated an RDA (Recommended Daily Allowance) of vitamin D of 0.015mg (600 IU). The real RDA (for the low 25OHD level of 20ng/ml) is about 0.175mg (7000 IU). The IOM made a simple, but crucial, statistical error. It seems likely that if they had not made this error, many people would now be supplementing with adequate quantities of vitamin D and there would be little trouble from influenza or COVID-19, all year round. The IOM's error was identified in peer reviewed journal articles in 2014 and 2015. No critiques of these articles have surfaced and it is reasonable to conclude that the IOM really did make this enormous mistake.
Yet
the impact of this mistaken calculation continues with government recommended vitamin D supplemental intakes of 0.01mg (400 IU) and 0.015mg (600 IU) in many countries, which are less than a tenth of what is really needed
. (See the
01-supp/
page for links to these articles.)
If these advisory committees and the doctors who rely on them had been doing their work properly, we wouldn't be in the current disastrous predicament, and we physicists, IT people, technicians, engineers and lots of other non-medical people would not be working outside our fields, attempting to fix the disastrous failings in particular aspects of nutrition and medicine.
One such retired electronics engineer is Henry Lahore, in Washington State, who now collaborates on articles with leading vitamin D researchers and works tirelessly to document research into vitamin D and several other nutrients at:
Another person taking a keen interest in this field is AI PhD Karl Pfleger, with his
Low Vitamin D Worsens COVID-19 Risk
article, listing recent research:
Gordon Shotwell, who trained in law and works as a data scientist, maintains a page of recent COVID-19 and vitamin D research:
Here is my adaptation of graphs from some recent observational research showing how low vitamin D levels are strongly associated with, and surely largely the cause of (rather than caused by) COVID-19 severe symptoms and death:
https://doi.org/10.3390/nu12092757
.